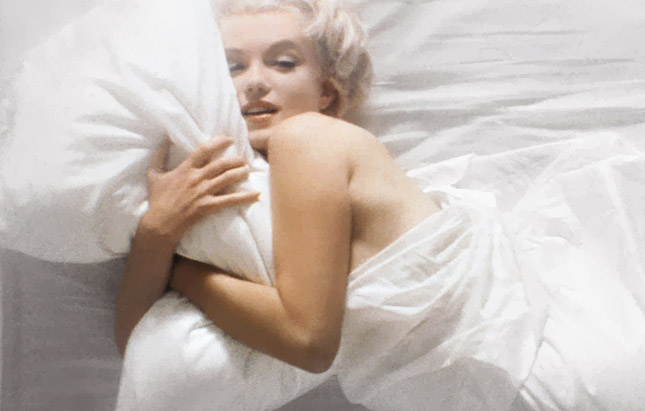 A renowned portraitist, Douglas Kirkland has photographed countless celebrities and models since the mid-20th century. During his career, he has worked with different magazines, such as Look and Life. He also did some photojournalistic projects for these magazines during his assignments in Japan, Greece, and Lebanon.
Kirkland has captured many Hollywood celebrities in their different moods in photo studios as well as outdoor locations. Here, we'll take a look at some of the famous personalities whom he has photographed over the years.
1. Marilyn Monroe
She was an American actress, model, and singer who achieved great popularity in 1950s and early 1960s. Monroe became one of the most famous sex symbols of the mid-20th century. Born and raised in the city of Los Angeles, she was married at the age of 16.
While working in a factory, she met a photographer and began a successful career in pin-up modeling. This led her to Hollywood, although she had a few short-lived contracts with Columbia Pictures and 20th Century Fox. She acted in a series of minor roles until she signed a new contract with Fox. Starting from 1950, she rose to popularity with roles in several comedies.
Monroe was among the most marketable stars of Hollywood by 1953. Kirkland had clicked her photos for the 25th anniversary issue of Look magazine. At the time, he was working for the magazine as a staff photographer.
2. Audrey Hepburn
An immensely popular British actress, humanitarian, and fashion icon, Audrey Hepburn was born to an aristocratic family. Starting in 1945, she studied ballet in Amsterdam with Sonia Gaskell and with Marie Rambert in London. After performing as a chorus girl in West End musicals, she appeared in minor roles in many films. With the release of the romantic comedy, Roman Holiday, she achieved stardom.
For her performance in the film, she won an Oscar, a BAFTA Award, and a Golden Globe Award. This made her the first actress to win these three awards for a single performance. Hepburn was nearly 40 years of age when she met Douglas Kirkland. He clicked her promotional stills for the 1966 movie How To Steal A Million.
3. Coco Chanel
Founder of the Chanel brand, Coco Chanel was a French businesswoman and fashion designer. She popularized casual fashion wear that was simpler, easy to wear and remove, more comfortable, and less expensive. Chanel is the only fashion designer who appeared among the 20th century's 100 most influential people. She had designed her famous interlocked 'CC' monogram herself in the 1920s.
It has been in use ever since. In 1939, her couture house had to close down following the outbreak of the Second World War. She was criticized during her stay in France for collaborating with the Germans and the puppet regime. According to her critics, she had done this to give her professional career a boost.
The Look magazine had sent Kirkland to photograph Chanel in 1962. He was only allowed to photograph the outfits as she didn't want him near her initially. It was only after he showed her the prints that he got the green light to photograph her.
4. Oliver Stone
Most of the films of Oliver Stone are focused on controversial political issues of the United States. The critics had even accused him at one point of promoting conspiracy theories. This Hollywood director, screenwriter, and producer won an Academy Award for his screenplay in Midnight Express. He achieved worldwide fame with the release of his war drama, Platoon, in 1986.
Stone had graduated with a Bachelor's degree in Fine Arts from New York University in 1971. He had made a request for combat duty in Vietnam after being enlisted in the US Army in 1967. He now lives with his wife Sun-jung Jung in Los Angeles.
5. Michael Jackson
Famed across the world as the 'King of Pop', Michael Jackson was a globally renowned singer, dancer, and philanthropist. His career spanned four decades. During this time, his contributions to dance, music, and fashion made him a global figure in pop culture. Through numerous stage and video performances, he gained immense popularity for his complicated dance moves.
The most famous among these moves is the 'moonwalk'. He was Jackson family's eighth child. His professional debut was in 1964 with his elder brothers Marlon, Jackie, Tito, and Jermaine. His solo music career began in 1971 and he became a star with Off the Wall. This music album released in the year 1979.
His music videos Beat It, Thriller, and Billie Jean broke the racial barriers. All these songs were from his album, Thriller, which came out in 1982. It became the best-selling album of all time. During the making of this album, he was photographed by Kirkland.
6. Morgan Freeman
Known for his distinctive deep voice, Morgan Freeman's career spans more than five decades. He is the winner of an Academy Award, a Golden Globe Award, and a Screen Actors Guild Award. Freeman was born in Tennessee and raised in Mississippi. He started acting in school plays when he was a child. Before appearing in stage productions during his early career, he was a student of theater arts in Los Angeles.
He became famous during the 1970s for his role in The Electric Company. It was a television series for children. Freeman played a hustler in the 1987 release, Street Smart. This proved to be a breakout role for him. The role also got him an Academy Award nomination for Best Supporting Actor.
7. Arnold Schwarzenegger
In 2004 and 2007, Arnold Schwarzenegger was one of Time magazine's 100 most influential people in the world. He also served as California's 38th governor between 2003 and 2011. Besides being an immensely popular actor, he is widely regarded as one of the greatest bodybuilders of all time. He has also written several articles and books on bodybuilding.
His breakthrough role was in the box-office hit of 1982, Conan the Barbarian. He achieved global fame with Terminator series, beginning with the first film The Terminator. He got the nickname 'The Austrian Oak' during his bodybuilding days. During his acting career, he was called 'Arnie' or 'Schwarzy'.